Fort Ord and BRAC History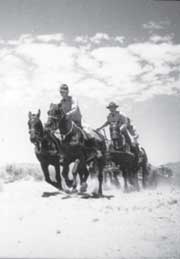 Since the government first purchased the property in 1917, Fort Ord served primarily as a training and staging facility for infantry troops.  From 1947 to 1975, Fort Ord was a basic training center.  After 1975, the 7th Infantry Division (ID) occupied Fort Ord. The 7th ID was converted to a light division in 1983.  Light infantry troops operated without heavy tanks, armor, or artillery.  Fort Ord was selected in 1991 for decommissioning, but troop reassignment was not completed until 1994, when the post formally closed.  Although Army personnel still operate parts of the base, no active Army division is stationed at Fort Ord.
In 1917, the Army bought the present day East Garrison and nearby lands on the east side of Fort Ord to use as a maneuver and training ground for field artillery and cavalry troops stationed at the Presidio of Monterey.  Before the Army's use of the property, the area was agricultural, as is much of the surrounding land today.  No permanent improvements were made until the late 1930s, when administrative buildings, barracks, mess halls, tent pads, and a sewage treatment plant were constructed.
In 1938, additional agricultural property was purchased for the development of the Main Garrison.  At the same time, the beachfront property was donated to the Army.  The Main Garrison was constructed between 1940 and the 1960s, starting in the northwest corner of the base and expanding southward and eastward.  During the 1940s and 1950s, a small airfield within the Main Garrison was present.  The Main Garrison airfield was then decommissioned and its facilities were redeveloped as motor pools and other facilities. In the early 1960s, Fritzsche Army Airfield (FAAF) was completed.  FAAF is now the Marina Municipal Airport.
Over its history, the post was home to a succession of infantry divisions and served as a center for basic and advanced training.
Base Realignment and Closure Commission (BRAC)
The 1991 Defense Base Realignment and Closure Commission recommended Fort Ord be closed and troops of the 7th Infantry Division (Light) be relocated to Fort Lewis, Washington.  As part of that action, the Army prepared several documents that identify future land uses for Fort Ord following closure.  The reference document section of this web site identifies the principal sources of information and documents prepared by the Army under the BRAC action.
The principal documents used in establishing future land uses include the Army's Environmental Impact Statement prepared to comply with the National Environmental Policy Act, the Army's Installation-wide Multi Species Habitat Management Plan (HMP) prepared to comply with the Endangered Species Act, the local community's reuse plan prepared by Fort Ord Reuse Authority, and the results of the real estate screening process.
Although Fort Ord was closed in September 1994, the Army retained portions of the property, an area called "Ord Military Community." About 785 acres were retained.