U.S. Army Fort Ord cleanup outreach events for 2021–to be determined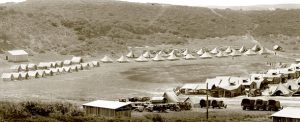 Oh my, what a year.  As there is uncertainty of event protocols in 2021, we will not publish a schedule of activities just yet.  Ideally, we will schedule a soil and water Open House / Bus Tour in February, various Earth Day activities in April, a Guided Nature Walk in May (a staff favorite and our event that works the best for social distancing), and finally our most popular event, the munitions Open House / Bus tour, in July.  Like everyone else, we'll wait and see how things go the next few months.The Army has an extensive outreach program to keep the community informed and involved with the cleanup. Community involvement at the former Fort Ord Cleanup includes assessing the interest of the community through surveys, public meetings and information sessions.
In February 2020, we were honored with more than 200 enthusiastic community participants at our Open House / Bus Tour dedicated to soil and water cleanup, However, after March, as the COVID 19 shelter-in-place requirements for large gatherings evolved, we cancelled many of our long standing outreach events.
Finally, thanks for your continued interest in the U.S. Army Fort Ord cleanup program!  We hope to see you at an outreach event.